Post by azure on Jun 29, 2012 22:04:15 GMT -5
Character Name:
Krysis Naomi Minori
Gender:
Female
Age:
21
Height:
5'7"
Weight:
115
-~-~-~-~-~-~-~
Physical Appearance:
Image: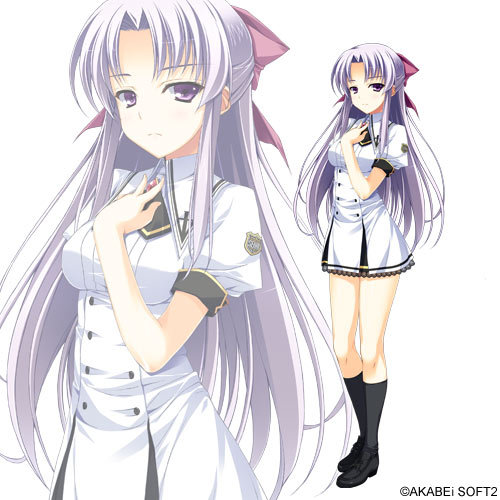 Outfit:
She wears a fake female sailors outfit most of the time, the sleeves cut off not much after the shoulder and her skirt is very short, but she wears short shorts under them. Then she wears knee-high boots

Hair:
Her hair is a natural silver, but she tints parts of her hair a purple-ey color. It is VERY long, down to her butt, and she ties a bit of it back with a bow.
Eyes:
Her eyes are a very striking purple
Skin:
She is a very pale person, but not sickly
Hygiene:
She doesn't need to clean much, she is naturally neat.
-~-~-~-~-~-~-~
Personality:
Likes:
Psychic pokemon
Being flirtatious
Being secretive/mysterious
Physical contact in a romantic way
Being strong
Dislikes:
Being weak - she always underestimates herself
People being snobby and boastful
Hot weather
Praise
Over dramatizations
Full Personality:
Krysis is a quiet person, tending to think everything through that she says or does before it happens, which tends to give her long periods of silence and unmovable standing. When she does talk, she means every word she says, never lying. Well, she sometimes tells what is true, but not the answer the asker was looking for. But still, completely true in everywhere. She is, unfortunately, very picky with what she puts into her body, believing her body was a temple (not in a religious way, but in the "it should be perfectly maintained" kind of way). It's only unfortunate because sometimes she can't get what she wants, and simply wont eat
-~-~-~-~-~-~-~
History:
Krysis grew up on a day care/breeding center in the Sinnoh region with many pokemon that came and went along with the seasons. She tended to gravitate towards the pychic pokemon more often than not, finding they were the most interesting of all pokemon. For example, she once met an Abra who would teleport away once she got a foot away from it. She was only eight and she made a game of trying to capture it. She only succeeded once, but looking back on it, she thought maybe the Abra wanted her to catch it.
When she set off for her journey as a young kid in the Sinnoh region, she competed in contests AND gym battles, finding them both fun and intriguing. She was very close to becoming the winner of the Grand Contest, but she lost and got what would be 3rd place, and she wasn't as close with the pokemon league but she sucked it up and continued her journey in other regions. Now here she is in the Yoru region, ready for competition, with a lot of experience under her belt, but no pokemon.